Lonely And Thinking About Online Dating? Here's Some Advice
Dating apps won't cure your loneliness but some people DO find the love of their lives online. I'll share strategies for success.
Let's face it, online dating is a double-edged sword.
On the one hand, it can feel more than a little dehumanizing to pull out your phone and swipe, swipe, swipe, swipe…
Not to mention all the rude behavior, communication that fizzles out, and folks who'll straight-up disappear after you thought you had a connection.
Despite the bad rap, online dating has actually become the most common way that couples are now finding each other.
According to a 2019 study, 39% of heterosexual couples and 60% of same-sex couples that got together in 2017 met online.
An activity that was once considered taboo has now evolved into a booming billion-dollar industry.
You may love dating apps or you may hate them, but if you're lonely and seeking a soulmate, chances are good that you've considered using one at some point.
In fact, one study found that those who are lonely are more inclined to explore online dating than those who are not, but those same people are "typically more likely to experience disappointment in their romantic relationships," as well.
Although a dating app isn't necessarily a cure for romantic loneliness, that doesn't mean you shouldn't use one — as long as it's for the right reasons and you understand the best ways to go about it.
As a fifteen-year online dater who's experienced mixed results (including a couple of serious relationships and a whole lotta frustration in between), I went on a quest to gain wisdom from dating industry professionals.
I connected with a variety of experts including a relationship therapist, dating and life coaches, a professional matchmaker, the founder of a dating site review service, and even a member of the original 1995 Match.com startup team.
I also wanted to gather some intel about real-life experiences, so I spoke with several people who shared their online dating experiences, frustrations, and tips.
And lastly, I've included some real-life examples via screenshots of dating profile hits and misses (fully protecting the innocent and guilty).
No one is destined to spend their life being single and lonely, even if it sometimes feels that way.
With a little objective analysis, we can recognize what we're doing wrong with our own profiles and where we can make improvements so that we get the relationship we REALLY want.
In this article, I'll talk about the steps you should take that will result in the best online dating experience possible, pitfalls to avoid when using a dating app and creating your profile, and offer guidance on what to look for in the profiles of those you're considering swiping right on.
I'll cover:
Editor's Note: This article is part of our ongoing series The Roots Of Loneliness Project, the first-of-its-kind resource that comprehensively explores the phenomenon of loneliness and over 100 types that we might experience over the course of our lives.
Step One: Set Your Intentions And Begin With Strong Self-Esteem
If we're looking to get our recognition and validation externally, we're always going to end up disappointed…We need to start by recognizing what values we have and what really matters to us. — Jay Shetty
The first step, before you even think about installing that dating app, is to understand your intentions and make sure you have healthy self-esteem and tough skin going into it.
What do you hope to gain from the experience? Are you looking for long-term companionship or a casual relationship with someone you can spend time with — no strings attached?
Dating online may increase your odds of finding love (or even a casual hookup) but as mentioned, it also leaves you vulnerable to the sting of rejection, love loneliness, and the pain of unreciprocated efforts.
Nothing wonderful that's gained comes without at least a little risk along the way.
To gain some insight, I spoke with Shirani Pathak, a San Jose, California relationship therapist and author who found her love online.
Before Shirani met her life partner, she went through years of online dating, which was often exhausting and overwhelming.
As she put it: "I'd be online dating for three months, then I'd need a break, then another three months, then another break…there are so many people and there's so much hot air blowing around."
She attributes her eventual success to a major paradigm shift that she underwent.
Instead of just listing all her "requirements," she started asking her dates who they were and listening very carefully to their answers.
She also started telling her dates that she was looking for something serious while explaining some of the ways she envisioned her future. Then she observed how they responded.
The lesson here is that if you're looking for a serious relationship, you've got to set your standards high — and stick to them.
Through your dating profile and interactions with potential matches, you need to display confidence, positivity, and what Shirani refers to as a "fierce authenticity."
Another way of thinking about being authentic is for a woman to be "naturally challenging", as this article breaks down excellently — a must-read for all women!
States Shirani: "We teach others how to treat us based on how we treat ourselves and what we allow."
How Low Self-Esteem Manifests On A Dating App
Low self-esteem can affect our relationships and in some cases, sabotage them entirely.
When we have low self-esteem, we might jump from partner to partner, settling for whoever wants to be with us at the time — just to avoid feeling lonely — rather than evaluating whether it's really a suitable match.
It also makes us more vulnerable to abusive or codependent situations and it prevents us from handling rejection or grieving breakups in a healthy manner.
But before we even get into a relationship, the way we portray ourselves on our dating app can be an indicator of low self-esteem — and thus a red flag to a potential match.
Likewise, knowing how self-esteem manifests on a dating app can help you to avoid people who may not be who you're looking for.
Many of the specific profile "don'ts" that we'll get into later with specific examples are dead giveaways.
This includes profiles that simply rattle off "deal breakers," profiles that include filtered, overly sexualized or outdated photos, and profiles that are downright basic and fake, or just looking for attention.
Here's an example of a profile that clearly displays some low self-esteem: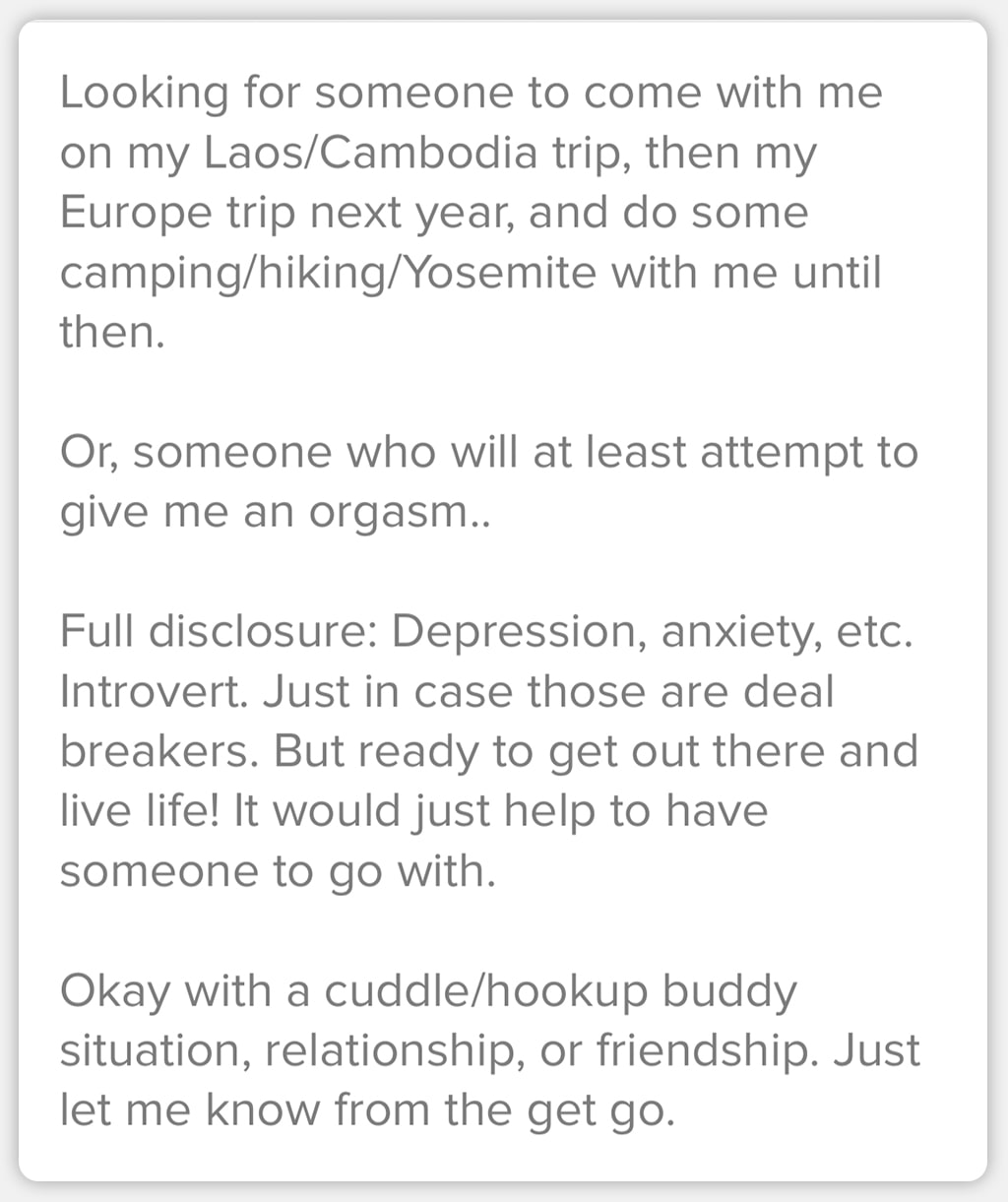 …My advice to this woman would be to take those trips alone! It's admirable that she's open about her depression and anxiety, but it sounds like she needs to find confidence in being solo first.
Contrast the above with this profile that portrays someone who's loving life and is in a good place to date:
Bottom Line: Developing healthy self-esteem is a critical prerequisite to finding a serious relationship, online or elsewhere. When in doubt, you should remain single until you're truly comfortable with being single. You deserve a relationship that comes out of love and mutual attraction, not from simply trying to ease loneliness.
Step Two: Stand Out From The Crowd — And Avoid These Mistakes
Something worth mentioning before we go any further: Ladies have a distinct advantage over the fellas when it comes to online dating — the men are out there making all the moves!
In fact, research shows that (comparing men and women responding to people their own age), women respond to men 4% of the time while men respond to women around 18% of the time.
In another fascinating study, data journalist Jon Millward set up ten dummy dating profiles that he studied in a four-month social experiment.
Among the results of the study, he found that the women's incoming messages outnumbered the men's by nearly 17 to 1!
Further, the most physically attractive woman (and thus the most contacted), had almost 17 times more messages in a week than the most attractive/contacted man.
These results are not surprising, especially if you're a good-looking young lady…you know you don't have to try that hard to get a date!
Beauty and youth provide an advantage in many areas of life.
But to attract a quality partner who has everything together? That's where we could all use a little help…
If You're Looking For Something Serious, Don't Be Afraid To Gear Your Profile Towards That
The first thing to remember when crafting your dating profile: State your objective with clarity.
It's very important to keep in mind the fact that online daters are all looking for different outcomes from the experience.
According to a recent YouGov survey, 49% of people on dating apps are looking for an exclusive romantic partner.
However there are many other motivations, such as looking for casual sex (23%), looking for something fun/interesting to do (39%), and plain old curiosity about what the app is like (29%). (Respondents could select more than one motivation.)
If you're one of the 49% who is looking for a serious, long-term relationship, you should never act like you're just looking for something casual because you're afraid it will turn someone off otherwise — unless it is truly what you're looking for.
An example of this? Julie Melillo, a life and relationship coach in Manhattan, told me:
"I had a client once who said she wanted a stable relationship in New York, but her profile was listing random cities she'd lived in and expressed doubt she'd stay here. 
She said she wanted to sound exciting and make guys want to chase her, but the reality was that she was repelling guys who wanted to settle down in New York…Someone who is not afraid of commitment and wants the same things as you is not going to be put off by your honesty." 
Here's a great example:
Don't Be A Catfish
This one should go without saying, but 20% of women surveyed by global research agency OpinionMatters admitted to using younger pictures of themselves for their online dating profiles.
Men are guilty of this too. In our modern age, youth and physical beauty are prized above most things, yet both are fleeting. Still, there is pressure on all sides to present the "best" looking version of ourselves online.
Even if it isn't truthful. And that's a mistake.
At all costs, you should avoid using dated photographs, misleading angles, or (especially) Snapchat/Instagram filters.
Keep in mind that your goal is to meet someone in real life, and it will be an instant turnoff if you look nothing like your picture — this goes for all genders, and it goes both ways.
Jeremy, a frustrated Plenty of Fish user in California, told me:
"You have to swipe through a woman's photos until you find one that doesn't have a filter or was taken ten years ago, which is usually the last picture in the bunch. And in my experience, this has been the case with most profiles I've come across."
You don't want to be sitting at the coffee shop watching your date struggle to identify you when he walks in.
Likewise, you don't want to find yourself sitting in that same cafe waiting for a 30-something guy, thinking you were stood up only to discover an hour later that the 50-year-old man sitting two tables away was your actual date.
Catfishing is no joke!
Be Strategic When Selecting Your Profile Photos
Let's be honest, if you're looking for something long term, don't do this (and avoid matches who do):
On the other hand, something like this is a great conversation starter: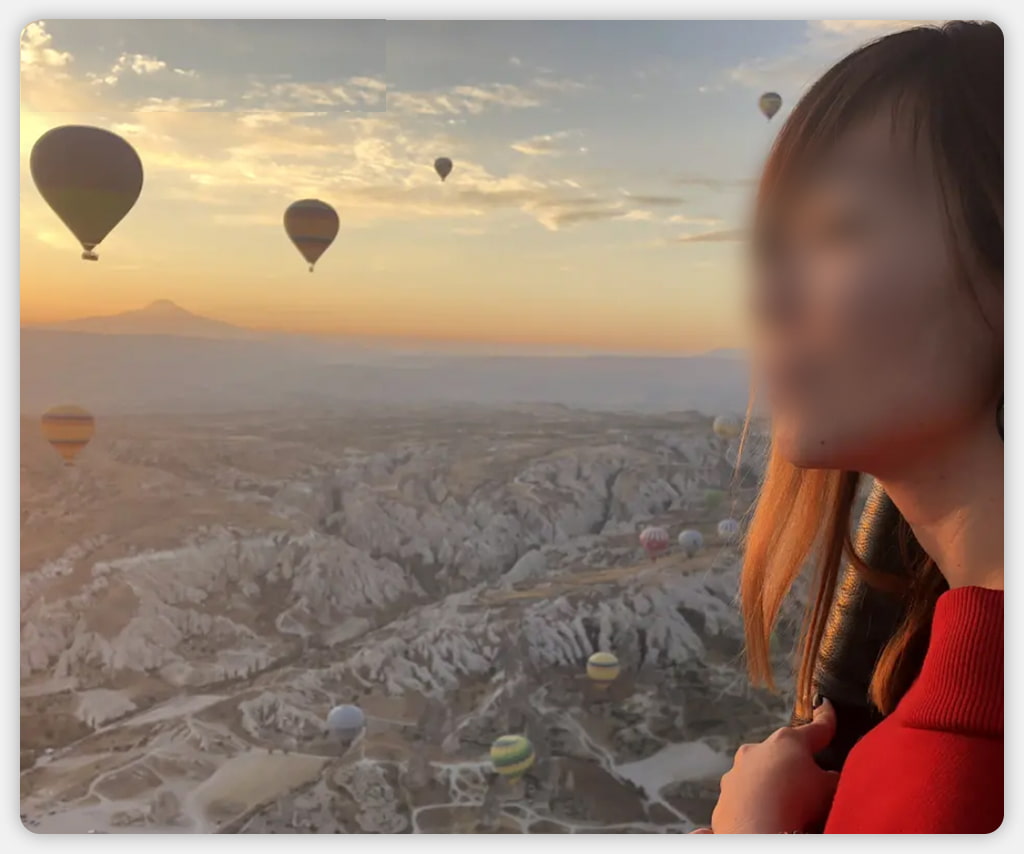 When it comes to your own profile, you'll want to include multiple photos with at least one full-body shot.
According to Zoosk, including at least one full-body photo on your profile can get you up to 203% more incoming messages than average. Whoa!
Research also shows that we react more favorably to photos where the subject is smiling and gazing directly into the camera.
So avoid those sultry, distant stares. You want to go instead for friendly and approachable — and seek potential dates who do the same.
Here's some additional advice from Darnell, my great – yet sometimes painfully honest – friend who uses Tinder:
"Don't include a picture with a bunch of your girlfriends. You might think this makes you look popular and fun, but I will just be let down when you're not the hot one in the group. Instead, keep it simple. A couple headshots, a couple body shots, and a smile."
Interesting Fact
, courtesy of the
San Francisco Chronicle
: Photographers are charging big bucks for photo sessions geared toward painting online daters in the most flattering light! Eddie Hernandez, a photographer based in San Francisco, charges $875 per three-hour session, including location changes within the city. He has photographed hundreds of clients over the past five years.
Positivity Attracts Positivity
Some of the folks I spoke with complained about people who simply list traits and qualities that they don't want. Dave, a frequent OKCupid user, told me:
"I don't like to feel like I'm being critiqued before I've even met you. Leave your requirements for a man out of the profile and just talk about yourself. The whole reason you're dating is to be open to new experiences and people."
Kat Haselkorn, a DC-based Three Day Rule matchmaker, added that:
"This is such a negative way to put yourself out there. Even if there are characteristics that are important to you, there are gentler ways to filter for the traits you do want. 
Saying something like 'Cat owners need not apply' makes you sound judgmental and close-minded. Instead of listing what you don't want, start with the positive. For example: 'Bonus points if you love dogs'."
Here are some examples of REAL profiles that have taken a wrong turn down Negativity Street:
…No, YOU'RE Snobbish!
 …This one is intolerant of intolerance!
 …I have no words. (And these are real profiles, mind you.)
Now let's contrast those with the following:
…A breath of fresh air! BE these people!
A Marketing Basic: Speak Loudly To Your Specific Audience
If you're looking for a deeper connection with someone, avoid generalizations in your own profile — and swipe past those that are vague.
Instead of saying you enjoy music, list a few of your favorite bands.
Instead of just mentioning that you're a college student, tell them about why you chose your field of study.
Got a bucket list? Let's hear your top five items on that list!
Don't try to appeal to everyone, but instead be as specific as possible so that you're standing out to those who truly share your common interests.
Personal example: I listed my favorite podcast even though I was certain nobody else had heard of it at that time.
Lo and behold, I was contacted by a man who was so jazzed he'd found another fan, and it turned out to be a great conversation starter.
Isn't it always super exciting when you find somebody else who's into the same random dorky thing that you're into?
Here are a few examples of profiles that do a great job of keeping it concise, specific, and humorous:
…This little profile is bursting with info! This is a great example of how you don't need big, overflowing sentences but you can still state the facts in a fun and compelling way. 
…A quirky sense of humor that's sure to attract an equally funny mate.
…Another funny one! And a great way to say she's not superficial.
Flaws Can Be Endearing — Really
I reached out to Trish McDermott, a dating coach with Encore Dating and one of the original members of the Match.com startup team, who explained her "reverse approach." Stated Trish:
"Try something different. Many people brag or at least list, their life attainments. Big jobs, big degrees, vast travel…
If you want to stand out, take a reverse approach. I like profiles where you list a few of your more endearing flaws — nothing serious, and even a little funny, and speaking to your style or character." 
An example of this would be a profile that says the following:
"I'm the worst singer in the world. Not kidding. Once at a piano bar singalong, they actually removed the microphone from my hand. Yet, you're likely to find me humming a tune or singing along to my favorite groups because it's fun!"
A little self-effacing humor makes you relatable and shows that you're not afraid to keep it real — and that's something you should look for in the potential dates you're considering, yourself.
Don't Misrepresent Your Lifestyle
Women spend their entire lives being fake. A fake face. Fake eyes. Fake eyelashes. Fake tits due to push up bras. Fake. Fake. Fake… I want the real you. The uncut, unedited version. — Darnell, Tinder user, California
Speaking of keeping it real, let's stop posting Instagram-perfect shots of ourselves posing on other people's boats!
Several of the people I spoke with complained about others trying too hard and coming across as totally inauthentic.
Life coach Julie Melillo told me that she encounters this problem often with her clients. According to Julie:
"Some of my clients have really wanted to find 'the one' but their profile comes off like a different personality than they actually are: flighty, like they're a jet-setting rockstar constantly partying and lying on random beaches — they want to come across as fun and desirable but if it's not authentic, then they're attracting the wrong guys."
Personal confession time: I just realized that I was once super guilty of being fake with my own dating profile pic.
I'm not going to say that I never golfed, but it was a bold move posting a picture of myself casually driving the cart like an old pro. I realized it was a misstep after the twentieth guy messaged me asking what my handicap was!
 …Get that fake golfer off the course!
When setting up your dating profile, always remember: You don't need to put on airs…you're enough as you are.
Don't Be Basic
Here are some dating profile phrases that are now totally cliche:
"Take me on an adventure!" or "I like adventure."
"I love to travel." (No kidding!)
"If you can't handle me at my worst, you don't deserve me at my best!"
"MUST love dogs!"
"I love yoga."
"I'm a total foodie!" (…And what exactly is a foodie? Don't we all love food?)
"Wine tasting, IPA's or drinking whiskey!" (Really?)
Avoid such basic cliches at all costs…
These phrases are the dating profile equivalent of those "Live, Laugh, Love" wall prints that I come across WAY too often during my real estate career.
In other words: Totally Played Out.
So what if you really do love traveling and going on "adventures?" If this is a big part of your life, then use it to tell your original story.
If you've been somewhere unique recently, mention what you liked about it or what you learned while you were there.
The whole idea is to be original and let your real personality shine through.
It Takes A Village To Write A Dating Profile
If you're struggling with your dating profile, you're not alone.
Anyone who's had to write a bio will tell you that it's one of the toughest subjects to tackle.
Who ARE you? How do you summarize yourself in a thousand words or less? How many times are you going to have to re-write the damn thing before you don't hate it?! (As Truman Capote said: "Good writing is rewriting.")
Sometimes you just have to step back, get some objective criticism from a good friend who knows you well, and realize that dating profiles are often a work in progress.
Bottom Line: When perfecting your dating profile, authenticity is key. If the goal is to meet someone in real life, then keep your profile positive, keep it real, and keep it as unique as you are! If you're looking through dating profiles for potential relationships, seek those that do the same — you'll have much more success that way.
Step Three: Pull The Trigger, Make Contact And Get Results
Treat online dating as you would a job search. If you're looking for employment, you don't just throw your resume up on LinkedIn and then sit back.
Well, the same principle applies to dating.
Although online dating sells itself on convenience, if you want the best results, you have to put in the effort.
I've listened to many female friends over the years complain that they aren't being contacted by quality men and that it's mainly just "weirdos" making the first move.
But let's be honest: how many of us are taking an active initiative…and how many of us are just putting our profiles up and then slacking after that?
According to an OKCupid study, most women are still following the traditional habit of waiting for men to make the first move, with straight women 3.5 times less likely to send the first message versus straight men.
So why not stand out and be that awesomely rare chick who reaches out with a friendly hello?
The odds are overwhelmingly in your favor that you'll get a response!
Don't Be A Ghoster
Of course, you don't have to respond to every message that comes your way, but once a conversation has been started, you should be kind after that and don't ghost out.
When you're communicating online, it's all too easy to forget that the person on the other end of your app is a human being with real feelings that can be hurt — the same way yours can.
A good rule of principle: Always use the same criteria and consideration online that you would in the real world…that's just good karma.
If You Like What You Read, Pull The Trigger
On the other end of the communication spectrum, sometimes the back and forth can get super drawn out, with several messages or even phone calls being exchanged before either party works up the courage to ask for a first date.
You might enjoy the excitement and anticipation that's building up. But beware — this could lead to some real disappointment.
States Chris, a dater in California:
"There is no substitute for chemistry and you need to find that out QUICKLY!! I've had wonderful phone calls and chats with women for weeks before we've met only to meet and it was over in one second…it was sad and heartbreaking for me…get to the meet-and-greet QUICK!"
You'll never know what will happen until you pull the trigger and meet up with someone. That first date might lead to a second or third, an invitation for a nightcap to further a great conversation — or even a long-term relationship you never thought possible.
Avoid Treating It Like A Game And Think Twice Before You Swipe
Many dating apps are designed a bit like online gaming, stimulating the dopamine center of our brain, which is associated with pleasure, reward, and addiction.
What keeps us hooked is the little dopamine hit that we receive every time we get a match.
This is an instant gratification similar to the kind we get on social media, every time one of our posts receives a "like."
So there we are, like rats hitting the feeder bar, sitting on the train just swiping away in rapid-fire. With many of the swiping-based apps, we aren't even taking five seconds to read people's profiles.
Instead, we're making snap decisions based on physicality, which is fine if you're looking for a hookup, but not if your goal is a serious relationship.
I connected with Chris Pleines, founder of DatingScout.com, a popular dating site review service. He had this advice to add:
"The beauty and curse of online dating is the minimal time it requires for [us] to decide. We join dating apps and follow our rigid archetypes: height, weight, facial structure, hair type, and whatnot. We skip the ones whose physiognomy we don't like ⁠— that's how we narrow down our options on dating apps.
But if you're into finding a serious relationship, try going with your gut and not with your eyes. Before looking at their photos, read their bio and additional info. If anything is intriguing, take a chance."
Don't Fall Victim To The "Paradox Of Choice"
Another big problem with dating online is a seemingly endless pool of potential dates.
This causes what's known as the paradox of choice, a phenomenon where choice overload leads to indecisiveness and unrealistically high expectations.
Add to this a dirty truth in the Tinder world: Research has revealed that many men are simply swiping right on every woman in order to game the system, whereas women are much more discriminating, swiping right only on the men that they are serious about connecting with.
As one Tinder user explained to Vice, this is how the trick works:
"Saying yes to everyone means you match with everyone who likes you, including that magic overlapping part of the Tinder Venn diagram — those who are willing to match with you and those who you find attractive.
Sure, it's a bit of a heartless approach as you end up ignoring girls who message you that you're not attracted to. But app dating, in general, is a fairly dehumanizing and mechanistic numbers game." 
Consider Whether The App You're Using Is Right For You
Not all dating apps are created equal, but there are some great ones that are conducive to serious dating.
But how do you know which app to invest time on when there are literally thousands to choose from nowadays?
Here are a few of the best dating sites that we've used and personally recommend:
OkCupid uses a variety of questions to help you find your best matches. Each potential date is given a compatibility percentage based on how many questions they answered the same as you. So, the more questions you answer, the better this feature will work.
On top of this, OkCupid has some genuinely fun profile writing prompts to get the creative juices flowing.
eHarmony was created specifically for people who are seeking serious relationships and marriage. According to eHarmony, 4% of all marriages in the U.S. each year are the result of eHarmony matches!
Rather than relying on looks, members who sign up with eHarmony have to take a very in-depth personality test with about 250 questions right off the bat to determine who their best matches will be.
Hinge's motto is: "Designed to be deleted," and according to Hinge, they're the "app for people who want to get off dating apps." One thing we like about Hinge is that it scrolls vertically, like a Facebook feed, rather than using the swipe format that Tinder and many others use.
Another unique feature is that after you've exchanged phone numbers with a match on Hinge, the app will follow up and see if a date occurred. If so, Hinge will actually use your feedback to improve their algorithm and increase your odds for future success!
Bumble is the answer for women who've had it with creepy men bombarding them on dating apps. With Bumble, the woman is required to make the first interaction. Once she's matched with a man, she has 24 hours to then start the conversation. This shifts the power to the women and, as the theory goes, this makes us ladies more positive about chatting overall!
If you're looking for something serious, you might also want to consider upgrading to a paid subscription or using a paid site like eHarmony, Match.com and others.
It's the old dance club principal: a cover charge keeps the riff-raff out!
Coffee Meets Bagel (CMB) is another favorite that simplifies the matching process by giving you a finite number of matches each day at noon using your network of friends and relationships on Facebook.
If you don't have many friends or friends-of-friends, that's totally OK, CMB simplifies the process by giving you matches to choose from culled from their extended network of millions of users.
Better catch them quick, however, as each day your matches reset, so if you didn't log in and see them, they're gone forever…You then have about 1 week to talk to a mutual match (both parties have to indicate interest) in your respective "chat room."
Once the time is gone, that chat is no longer available (although paid upgrades allow you access to unlock it again, among other perks), putting a little more urgency on the interaction after you match.
This app is for those looking for something more serious and meaningful, and with both the 12 PM daily matches coupled with the chat expiration, I loved the sense of "moving forward" so there is little time wasted or much chance for ghosting or bad behavior.
…Still confused about where to start? Click here to check out some thorough reviews of all the major dating websites and apps.
Bottom Line: As with many things in life, you get out what you put in. Pick the right app and put in the time and work necessary to get results…serious dating requires some serious effort. Take your time, read and consider a person's bio before you make a match, and follow your instincts.
In Conclusion
If you're lonely, single and considering a dating app, remember to be good to yourself through all of this.
There are many things you can do to improve your odds of success when dating online, but at the end of the day, a lot of it still comes down to timing and luck.
Don't feel bad if you're having a rough go of it, especially at first — this isn't necessarily a reflection of your character.
Step away and take a break whenever you feel you need to.
And remember to keep actively engaging and putting yourself out there in the real world.
You never know when or where you might meet someone fantastic — it could be online, but it might also be at the laundromat just down the street!
Looking to level up your online dating skills and dig into some self-improvement…but not quite sure where to start?
Beginning the journey of self-discovery can be overwhelming. Seeking therapy is a solid step but short of this, there are some great books you can check out. Here are a few that we recommend: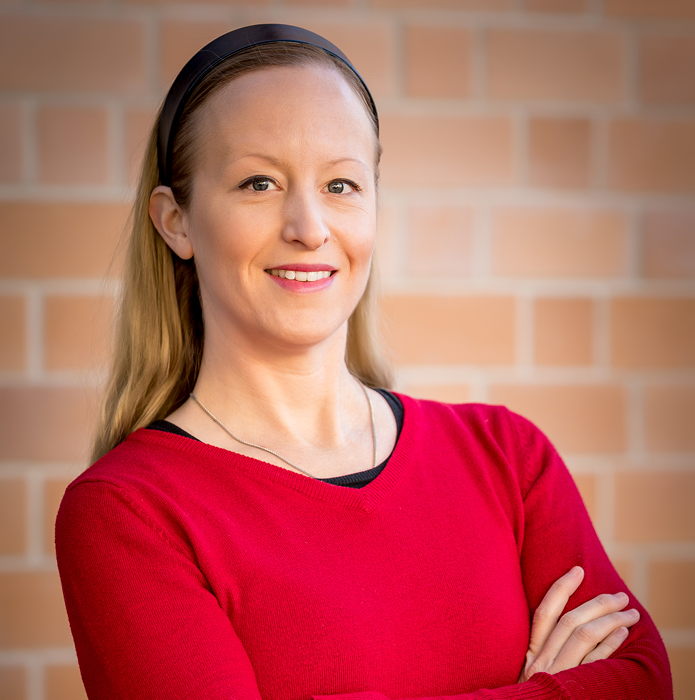 Hello, I'm Chrissy. I'm a corporate desk jockey by day, but writing is where my true passion lies and I've always had a...