114 Empowering Be Yourself Quotes (When You Need A Boost)
When you're finding it difficult to be yourself, these quotes will provide thoughtful and meaningful words of encouragement.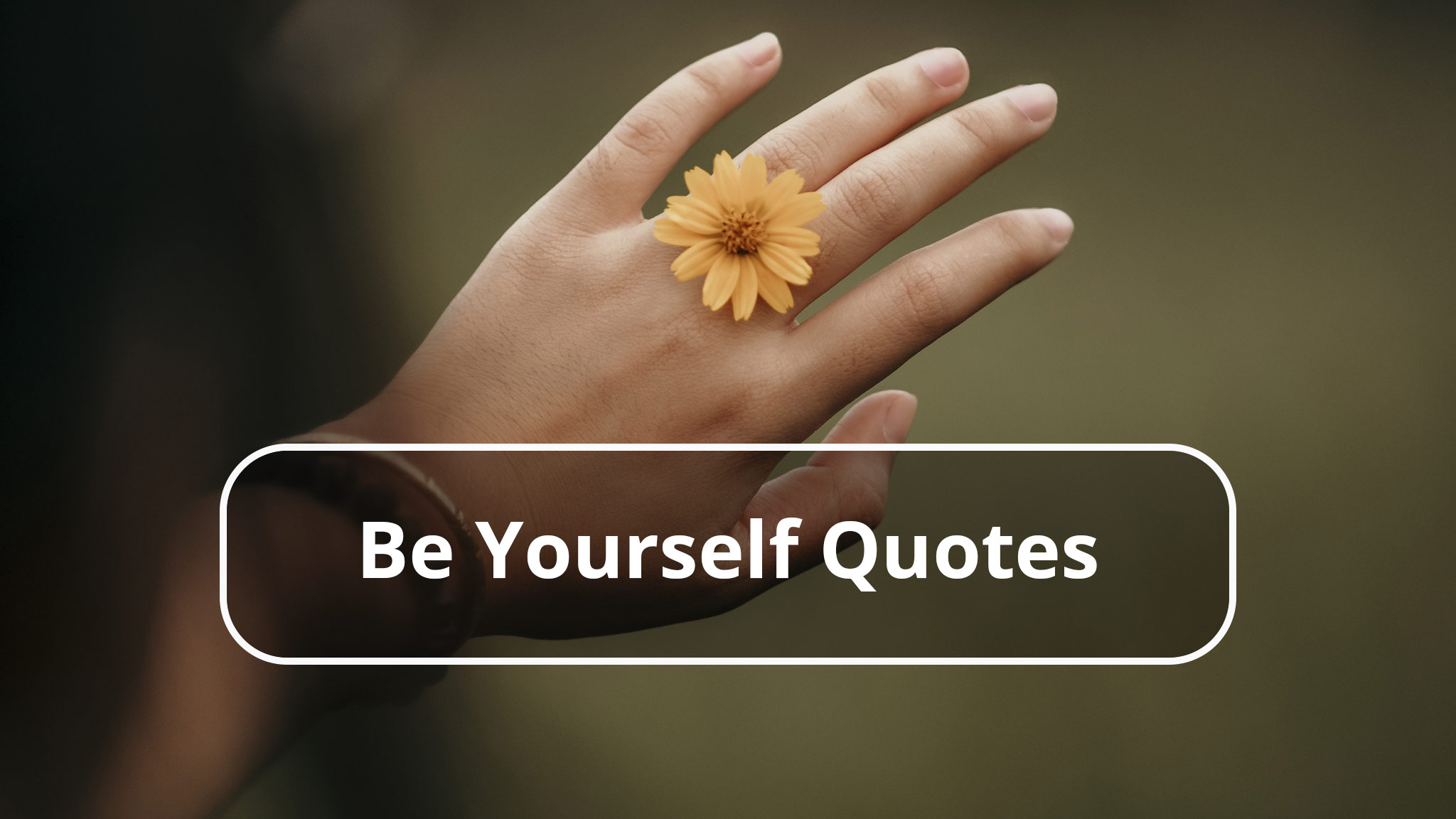 If you are not yourself, you have nothing to offer the world but a cheap imitation of someone else.

― E'yen A. Gardner
Just be yourself is a commonly-heard piece of advice that — let's be honest — doesn't feel very meaningful when you're struggling to embrace who you are or where you're headed in life.
The truth is that even the most confident person in the world can experience moments of crippling self-doubt and times when they're in need of a little bravery or reassurance.
One of the most important things we can learn in life is to love ourselves, and that includes being (and accepting) who we are.
In this article, we'll share:
Inspirational Quotes About Being Yourself
Everyone needs a little inspiration sometimes.
When you're finding it difficult to be yourself — or to even figure out what that means — these quotes will provide thoughtful and meaningful words of encouragement.
Consider them a muse to turn to whenever you're seeking reassurance, confidence, or strength to stay on course.
1. 
Be real. Be authentic. Be yourself, whatever the emotional cost. Pain goes away, while regret over a life lived trying to be a plastic version of yourself does not.

― Vironika Tugaleva
2. 
It's a funny thing, how it works…The moment we stop trying so hard to be someone, we become ourselves–only what was there all along, waiting and peeking out from behind all the masks we wore. And when this happens, we discover that Who We Really Are is much greater than anything we might have pretended or even hoped to be. 

― Jacob Nordby
3. 
We're not words…we're people. Words are how others define us, but we can define ourselves any way we choose.

― Shaun David Hutchinson
4. 
The less you look to others, the more you find in yourself. What have you found in yourself.

― Ron W. Rathbun
5. 
You can be yourself without pursuing yourself. Have you ever seen a dog chase his own tail? He just runs in circles.

― Criss Jami
6. 
Be You! It is so enchanting to see the beauty that radiates from someone freely expressing their uniqueness.

― Steve Maraboli
7. 
I have never tried to be a good person, or to appear to be a good person. What I do and what I have done is merely a side effect of my desire to become me. I have only wanted to be me; if people think I'm good, then so be it. If people think I'm bad, then so be it. But if anything, my greatest struggle is to not come across as so good. I always find myself asking, "Why do I keep on giving off this immense impression of goodness?" Can I ask the world, am I not simply allowed to be me; without needing to be classified as either good or bad? Being known as good has its own prison just as much as being bad has its jail bars. I am so tired of the need to classify people. I am me.

― C. JoyBell C.
8. 
Vulnerability gives us freedom, power and connects us to a network of injured souls. It is through the art of being real that we can heal ourself and others.

― Shannon L. Alder
9. 
If you want to live within the definition of your own truth, you have to choose to go through the painful process of finding it.

― David Levithan
10.
Often people attempt to live their lives backwards: they try to have more things, or more money, in order to do more of what they want so that they will be happier. The way it actually works is the reverse. You must first be who you really are, then, do what you need to do, in order to have what you want.

― Margaret Young
11.
It's just better to be yourself than to try to be some version of what you think the other person wants.

― Matt Damon
12.
If you want to fly you need to grow up, to grow up you need to be a kid again. To be a kid again you have to just be yourself; so come out of your cozy comfort zone, yell out and break the boundaries you are stuck in. Then only you can fly.

― Vikrmn
13.
I think that I've been trying for a long time to feel like I am supposed to, instead of what I actually am.

― Ava Dellaira
14.
By nature, we want to be liked. We want to be accepted. But, most of the time, we allow our worth to be decided by the people on the sidelines. By people that see snapshots of our life but have no clue what the whole picture looks like.

― Liz Newman
15.
Every time you're given a choice between disappointing someone else and disappointing yourself, your duty is to disappoint that someone else. Your job throughout your entire life, is to disappoint as many people as it takes to avoid disappointing yourself.

― Glennon Doyle
16.
Be unapologetically you…..Don't apologize for who you are or what you are. Just be YOU and those that matter will be drawn to you and those that aren't will not matter.

― Nanette Mathews
17.
Yes, I might be different, but I'm DEFIANTLY DIFFERENT – and I'm not going to hide away. I'm going to write what I like and dress how I like and love, or not love, who I like. And I'm going to dream sensational dreams. And let them lead me to live sensational adventures.

― Siobhan Curham
18.
It was only when I started to be myself that the music started to flow and people started to listen.

― Sam Smith
19.
Maybe the problem with lying is that once you start faking it, it's impossible to tell where the make-believe you ends and the real you begins. It's hard to be who you are, but it's even harder to keep up the lie.

― Autumn Doughton
20.
Every category has its snobs: music, books, movies. There are so many things a man is only pressured into liking or disliking.

― Criss Jami
21.
If you choose to be fearless, then be fearlessly authentic not an imitation of someone you envy.

― Shannon L. Alder
22.
You are awesome. I know that for sure and I haven't even met you yet. You are awesome. Not because of how you look, or what you can do. Not because of what you know, who you know, or even what is possible for you. You are awesome because you made it. You're here. You exist.

― Jolene Stockman
23.
I think Dostoevsky was right, that every human being must have a point at which he stands against the culture, where he says, this is me and the damned world can go to hell.

― Rollo May
24.
But I've learned now that your hard work and dedication will pay off, if you dare to be different. Because why would I want to be anything other than myself?

― Kristyn Van Cleave
25.
There are, literally, thousands of people all around the world who need nothing more than to meet someone just like you. To spend your time pretending to be someone else is just as senseless and fear-driven as spending your time speaking to people who don't understand you. Find your tribe. Let yourself be seen. You are already someone's hero.

― Vironika Tugaleva
26.
I found I was more confident when I stopped trying to be someone else's definition of beautiful and started being my own.

― Remington Miller
27.
In a world of those who follow the rules without deviation those who innovate even in the shadows, will rule. Never be a carbon copy.

― Nalini Singh
28.
If you are not yourself, you have nothing to offer the world but a cheap imitation of someone else.

― E'yen A. Gardner
29.
Be everything that you are unapologetically, most of you will find out that you are not just one color, you are a Rainbow.

― Mridula Singh
30.
I say what I want to say and do what I want to do. There's no in between. People will either love you for it or hate you for it.

― Eminem
31.
I'm learning there is no one way for life to be lived, no one way to be strong or brave or kind or good. Rather there are many people doing the best they can with the heart they are given and the hand they are dealt.

― Mackenzi Lee
32.
Be you, be true to your word, don't sell yourself short and don't waste your life worrying.

― Sam Owen
33.
It takes courage to be yourself, but courage only exists when you fear. Once you are yourself, there is no more fear, no need for courage.

― Jenna Ware
34.
It's beautiful when someone recognizes and appreciates us for who we are, for how we are, without trying to change us, and without any judgment. Unconditional acceptance is the truest form of love.

― Akiroq Brost
35.
Don't be bothered with what you think other people expect of you when it comes to your raw talent.

― Amber Hurdle
36.
We are constantly being given the opportunity to become who we are; our outward experiences catalysts to our inner knowing.

― Shayne Traviss
37.
If life is a stage and you are your own agent, then don't hesitate to play the character you wish to play.

― Richelle E. Goodrich
38.
Just be yourself. Let people see the real, imperfect, flawed, quirky, weird, beautiful, magical person that you are.

― Mandy Hale
39.
For me, being comfortable and unafraid to live in your own authenticity is radical. Revolutionary people don't have to try so hard to be who they say they are. They exude it and live it effortlessly in their natural state.

― Jamie A. Triplin
40.
The more you try to crush your nature, the more it will control you. Be what you are. No one who really loves you will stop.

― Cassandra Clare
41.
Rather than looking outward in an attempt to predict the outcome, you turn inward to your identity. You base the decision on who you are — or who you want to be.

― Adam Grant
42.
Be exceptionally good at being yourself so that those around you feel comfortable being their own exceptional selves. This is how we subconsciously bring out the best in others: By unknowingly inspiring them just by being ourselves.

― Omar Cherif
43.
Too many people in this world are being pressured into feeling apologetic about who they actually are.

― Scarlet Jei Saoirse
44.
Most people will never learn the lessons meant for them in this lifetime, nor become the person they were meant to be, simply because they are too busy being someone else, or someone they are not.

― Suzy Kassem
45.
My advice is to GET WEIRD so that the people who will love you for being you (your tribe) can find you.

― Benjamin Brown
46.
In a crowd of roses, choose to be a sunflower. Thornless. Unwithering. Abundant in seeds.

― JaTawny M. Chatmon
47.
Not everyone is going to love us. And that's OK. There's nothing like rejection to make a vulnerable person question their worth. But do not let your reflection in the mirror be distorted by what you imagined someone else saw.

― Jacqueline Simon Gunn
48.
It takes courage for a man to listen to his own goodness and act on it. Do we dare to be ourselves? That is the question that counts.

― Pablo Casals
49.
Don't aspire to be the next somebody else. Be proud and embrace being the first and only you!

― Tammy Ferebee
50.
I am not here to be average, I am not here to be great, I am not here to be successful, and I am not here to be happy, I am here to simply be all of me.

― Ray Mancini
51.
People of different dispositions make the world go round. That's why it's insanity to try to be someone else.

― Ufuoma Apoki
52.
Can you imagine the number of events and choices that had to occur since the birth of the Universe leading to the making of you (or anyone for that matter) just exactly the way you are! So, you, me and each one of the several billion humans is as special, in our own way!

― Mohith Agadi
53.
Don't give the world what anyone else has got. Give what only you, uniquely, have to share.

― Ashley Asti
54.
The world would be a much better place if they stopped congratulating themselves on being normal and started to accept that there were countless different normals.

― Talia Hibbert
55.
I love the idea of laying out all your cards on the table and saying, "Love me for all that I am or I am done, I refuse to keep waiting and trying to be anything but who I am comfortable being.

― Keah Brown
56.
Getting into the habit of changing who you are to please others, is setting a lifetime marathon of running away from yourself.

― Dr. Jacinta Mpalyenkana
57.
The longer you live a comfortable lie, the farther you drift from your purpose, and the harder will be to gather the courage to go back to your heart.

― Dragos Bratasanu
58.
There's merit in being different, inspiration in being individual, courage in being unique, and freedom in being yourself.

― Fennel Hudson
59.
People want so desperately to fit in that they forget what makes them stand out. Be loud. Take up space. Our differences are our strengths.

― Mickey Rowe
60.
Each individual is a unique and brilliant work of art. So let that beauty from within illuminate the world.

― Cindy Ann Peterson
61.
We are not the stories that others hear about us, we are the stories that we know about ourselves.

― Lauren Kasper
62.
I am often asked what made me the way I am. And my answer is always this: I've always been me. It just took awhile to find me under all the rubble.

― Alfa Holden
Funny Quotes About Being Yourself
Laughter can be the best medicine and sometimes all it takes is a little inspirational humor to boost your mood and your general outlook when you're struggling to be yourself — or aren't sure if you should.
1.
Almost everything will work again if you unplug it for a few minutes, including yourself.

— Anne Lamott
2.
Be a unicorn, not a twatapotamus.

― Lani Lynn Vale
3.
Weeds are flowers, too, once you get to know them.

— A.A. Milne
4.
You can put a tiara on the world's most adorable pig and she still isn't going to blend in with the thoroughbreds galloping past.

― Kate Coyne
5.
Just remember that people who are known for their looks are rarely known for anything else.

― C.J. Carlyon
6.
No use in trying to please everybody. No use in trying to please critics. Live under your own hat. Don't be led away by those howls about realism. Remember — pinewoods are just as real as pigsties, and a darn sight pleasanter to be in.

― Lucy Maud Montgomery
7.
I think we should start calling our mistakes 'growth spurts' instead.

— Cheryl Hale
8.
Naked people don't follow fashion, they follow instincts.

― Ljupka Cvetanova
9.
"I'm sorry I'm not your cup of tea," said no espresso ever.

― Chess Desalls
10.
I'm not even on drugs, I'm just weird.

― Alex Gaskarth
11.
It might be extremely dorky to point out, but who you are is singular. It's science. No one else in existence has your point of view or exact genome (identical twins and clones, look for inspiration elsewhere, please). That is why we need people to share and help us understand one another better. And on a bigger level than just taking a selfie. (Not hating on selfies, but a few is enough. You look good from that angle; we get it.) We need the world to hear more opinions, give glimpses into more diverse subcultures. Are you REALLY into dressing your cat in handcrafted, historically authentic outfits? No problem, there are people out there who want to see that! Probably in excruciating detail!

― Felicia Day
12.
Always, always be yourself. Unless you're a dunce, douche, doofus, or a schmuck.

― Omar Cherif
Short Quotes About Being Yourself
If you're in a hurry and simply need a quick pick-me-up to set your day or week on the right path, we'll share some of the shortest (yet impactful) quotes to boost your confidence immediately.
1.
Break the rules, stand apart, ignore your head, and follow your heart.

― Paula Abdul
2.
It doesn't matter if you're 20, 40, 60, 80, or 100. Embrace your sexy-ass self and express it!

― Steve Maraboli
3.
Come out of hiding, don't be afraid to be yourself.

― E'yen A. Gardner
4.
Staying true to who you are is essential to anyone's success.

― Lindsey Rietzsch
5.
The vast majority of adults have never met themselves.

― Mokokoma Mokhonoana
6.
You are not free until you have no need to impress anybody.

― Joyce Meyer
7.
Be your own self. Love what YOU love.

― Ray Bradbury
8.
The problem is that we learn how to be ourselves so late in life.

― Tomi Lahren
9.
Tis a miserable thing to turn a soul into something it is not.

― Ella Rose Carlos
10.
Just get on with being your badass self.

― Scott Stabile
11.
You have a right to be you. It is a privilege for others to be around you.

― Janna Cachola
12.
The worst crime is faking it.

― Kurt Cobain
13.
Beauty comes from embracing who you are.

― Lindsey Leavitt
14.
Don't be afraid of being yourself, but be afraid of being somebody else.

― Ben Tolosa
15.
The fear of being yourself is the beginning of self-doubt.

― Lailah Gifty Akita
16.
The hardest thing to do in life is to be yourself.

― Debasish Mridha
17.
Life's too short to live someone else's.

― Nathan W. Morris
18.
I've learned that the most important person to please at the end of the day is myself.

― Lily Collins
19.
Be you. It's life's best offer to others.

― Johnnie Dent Jr.
20.
Nobody is normal once you get to know them.

― J.W. Lynne
21.
If you aren't you, we don't get you.

― Max Lucado
22.
I am myself wherever I am, and I let the world adjust.

― Glennon Doyle
23.
She remembered who she was, and the game changed.

— Lalah Deliah
24.
You can't colour your world with someone else's paint.

― Israelmore Ayivor
25.
Do not strive to be perfect. Strive to be perfectly imperfect.

― Imania Margria
26.
Sometimes it takes a lot of courage to be who you are.

― Joan Bauer
27.
You can never know where you are going unless you know where you have been.

― Amelia Boynton
28.
You'd worry less about what they thought if you knew how little they did.

― Mike Skinner
29.
I am who I am and I am who I was, and I am who I will always be!

― Emrys
30.
Sometimes people with the greatest depth, appear to be like fish out of water.

― Curtis Tyrone Jones
31.
Be yourself, because you are the perfect YOU!

― Jacci Mendelsohn
32.
It is much harder to pretend than it is to simply be who you already are.

― Susan Meissner
33.
It is better for someone to dislike you for who you are than to like you for who you are not.

― Adrienne Posey
34.
Nobody ever made a mark by being like everyone else.

― Amit Kalantri
35.
Beauty begins the moment you decide to be yourself.

― Coco Chanel
36.
Somewhere, somebody is looking for someone exactly like you.

― Germany Kent
37.
Let's quit trying so hard to be some version of a normal we've never really been.

― Scott Stabile
38.
Being yourself is probably the only thing you need to skyrocket your life.

― Hiral Nagda
39.
I don't wear the opinions of others anymore, I learnt to dress myself.

― Nikki Rowe
40.
There is one thing we can do better than anyone else: we can be ourselves.

― Arthur Ward
In Conclusion
It's not always easy to "just be yourself" if you're struggling to understand what that means, let alone how to do it.
We all have so much to offer the world and although our personalities and mannerisms are unique to us, they are worth embracing — and loving with all our hearts.
Editor's Note: This article is part of our ongoing series The Roots Of Loneliness Project, the first-of-its-kind resource that comprehensively explores the phenomenon of loneliness and over 100 types that we might experience over the course of our lives.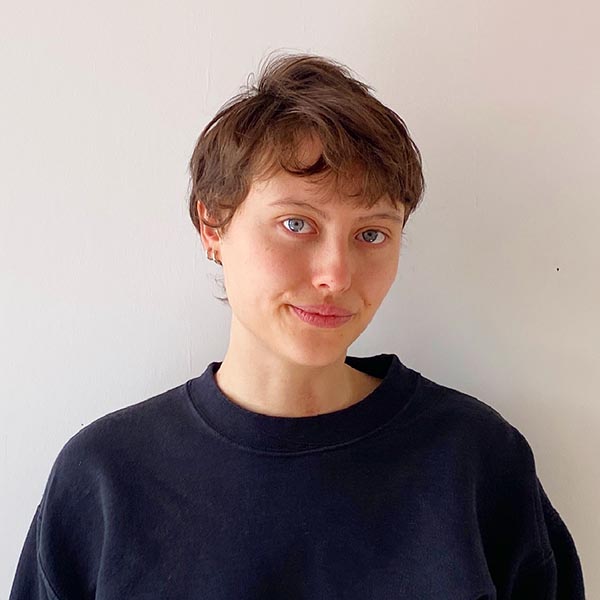 I'm a lesbian Aquarius living in Brooklyn, New York. I like to think about things and read about things. I enjoy writing, as...